Semana Santa in Andalusia
One of the most spectacular Spanish events is the celebration of Semana Santa in Andalusia. Semana Santa, that is from Spanish Holy Week, is the week before Easter. The celebration is carried out in all eight municipalities of Andalusia, although the most magnificent celebrations of Semana Santa traditionally occur in Seville and Malaga.

During Semana Santa one or more processions go along the streets every day from Palm Sunday to Easter Sunday morning. Processions are usually divided into several groups. Each group is formed by people of a certain congregation. Sometimes the quantity of participating congregation members exceeds several thousands. Men of each brotherhood wear similar tunics, hoods with conical form and masks and women wear traditional Spanish costumes. People of Semana Santa processions carry splendidly decorated big floats with sculpture mounted into each one. Every float is a unique work of art. Some of floats date back to the 17th or even 16th century. The last day of the celebration of Semana Santa in Andalusia is the most important. It caters thousands of Spaniards and tourists for its unique atmosphere of mass processions and showy performances.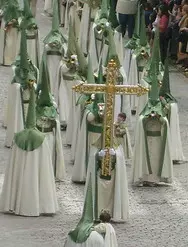 Semana Santa is celebrated differently in each town of Andalusia. However, the most gorgeous celebrations of Holy Week are carried in the cities of Malaga and Seville. There were 58 processions, some of which with more than 3,000 people participated, in Seville during Semana Santa in 2007. Malaga city is also a place where Holy Week is solemnized in a big way. The weight of some floats exceeds six tons, so these huge constructions are carried by up to 250 men. Processions are accompanied by solemn music performed by drums and trumpets.



Photo is published under the public license: tacoekkel, jmerelo.