Ronda, an ancient Andalusian city, is located in the province of Malaga 100 kilometers from the province's capital. Ronda is situated in a mountain terrain at the height of 750 meters above sea level. The Andalusian city has quite calm and unhurried tenor of the life. Tourists usually come in Ronda on one-day excursions. However, this city of the province of Malaga could be preferred by people who are looking for opportunity of total solitude.

Ronda stands on the both sides of El Tajo canyon. A depth of the gorge reaches more than 100 meters. There is the Guadalevin River that flows along the El Tajo's bottom. Ronda was settled by the Celts in 4th century BCE, but the architecture of the Andalusian city is mostly of Roman and Moorish style. On the one side of El Tajo, there is an old town that dates back to 13th century. A new part of city was built in 18th century on the another side of the canyon. The both sides are connected by three bridges: Puente San Miguel (13th century), Puente Viejo and Puente Nuevo (18th century).

There are many landmarks and sights in one of the oldest cities of the province of Malaga: a corrida arena Plaza de Toros de Ronda (was opened in 1784), the Arab baths (13-14th century), and the Plaza Duquesa de Parcent. In addition, you will be astonished by nature views of Ronda's environs.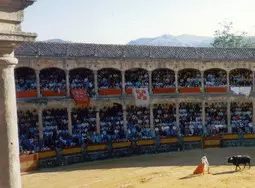 The Andalusian city of Ronda is thought to be a cradle of Spanish corrida. Exactly in Ronda there is the oldest and the most majestic arena for bullfights in the province of Malaga and in Spain, Plaza de Toros de Ronda. The arena also works as a museum of corrida. Here you will get acquainted with a history of corrida's developing.

Ronda is an unique place in the province of Malaga. Walking along calle Espinel, the main pedestrian street of this charming Andalusian city, you'll plunge into unusual atmosphere of a real Spanish city.


Photo is published under the public license: valderrama, -Merce-.